WHY SELF-DRIVING CARS ARE THE FUTURE OF TRANSPORTATION
Transport Has Been Innovating For 30 Years. Next Step Transport Logistic Companies Will Use Self-Driving Cars To Optimize Transport.
By: Shmulik Tura, COO of OptiCity

How Transportation Has Changed Dramatically in The Last 30 Years
Organizing transport for large events manufacturers and company employees for the past 30 years, I was able to witness firsthand the incredible changes the industry has implemented.
A lifetime ago ordering a taxi was unreliable. You would call the dispatcher, order a ride and wait. And wait. And wait…
20 or even 30 minutes would go by, you call back and the dispatcher would respond "the driver didn't arrive!?". No, they didn't.
Then, you would have to wait again, hoping that this time your ride would actually come.
Today, companies like Gett have made it as simple and efficient as a click on an app to order a cab. We depend on features such as tracking the driver's location, approximate time of arrival, making it all a lot more convenient.

Same challenges for employees commuting to work!
Likewise, to the passengers of taxis, employees had a similar struggle with company shuttles. Pickup time would be set for the time the shuttle began its route.
Depending where on the route the employee was, they could spend more than an hour in the morning waiting for the shuttle.
Is the shuttle to work canceled?? How long should we wait??
If the shuttle got cancelled, it was a long process of notifying everyone. Any mistakes meant employees would wait for a shuttle that wasn't coming. Companies like OptiCity have solved the issue efficiently. By collecting information from passengers, drivers, and the company – the app can adjust to retain optimal performance. Everyone gets notified automatically about the changes, making sure no one gets left behind.

The introduction of the autonomous electric vehicle is the next big transition!
A large expense in transportation is employee salaries and gas. Since the future transportation options will not have a driver or a gas bill – the result will be significantly fewer expenses. The use of autonomous vehicles combined with OptiCity, will create an efficient system with minimal cost and errors. This is the gap between 30 years ago, today, and the future.
Billions of people celebrated the concept of a driverless car. The obvious added convenience of not having to focus on the road was something everyone could appreciate. For managing a logistics department, it means more than just convenience. It can be a mess because it involves relying on many human components, drivers, passengers, shuttle providers, etc.
Due to the unpredictability of people, it makes it very difficult to manage transport with just an AI solution.
That is why companies like OptiCity offer an on-hand team to accompany their logistical app. The opportunity they see with self-driving is the end of the human-caused logistical issues, such as lack of communication, late to work, and needs for breaks is a game-changer for the commercial world.

This is the dream situation for everyone in transportation. Vehicles operating around the clock, picking up and dropping off people in a consistent and predictable manner. Cars will be sharing massive amounts of data with each other dramatically reducing accidents, eliminating traffic altogether, and allowing for much more efficient utilization of vehicle sharing.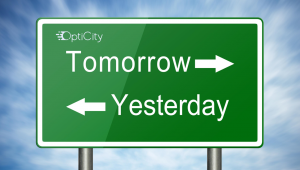 What's holding us back – from the self-driving revolution?
It seems the issues of cameras not recognizing certain obstacles, safety concerns, and government regulations are a few of the bigger problems at hand.
One thing is for certain, whether it's in a year or in a decade, self-driving will be the future.
Transport has a huge effect on business profitability, therefore technological giants are very motivated to ensure the most efficient transport strategies are implemented. They are gradually solving every issue they are presented with.
Guaranteeing we will eventually have safe and secure driverless cars.

OptiCity + Self-driving vehicles = The perfect transportation combo
Self-driving vehicles and logistical software share the same goals for the future to optimize transport, deliver the best passenger experience, and push for a greener world.
Combining a transport logistics company like OptiCity with a driverless car would create the closest thing we have to the perfect logistics. It requires a very high level of sophistication to manage and organize the many constantly altering factors involved with transit.
OptiCity has already proven capable to reduce transport inefficiencies an average of 20%, and that is without a driverless car!
In the future OptiCity equipped with driverless vehicles will have the power to enhance the passengers' experience, help cities' traffic flow, guarantee pick-up times, and increase data for last-minute mid-route optimizations;
The communication between the multiple technologies could be our best chance at solving the continuously worsening traffic issue. Until the development of flying cars utilizing self-driving vehicles with OptiCity, is the best chance we have of enhancing our transportation.